Many people spend a lifetime trying to figure out how to make a career out of something they love. Doing something you don't enjoy day in and out can really take a toll on you mentally. Working in a profession you love can fill your life with joy instead of dreading going to work every day. Could bridal alterations be the career for you?
 If you are an advanced sewer and want to know how to make a living out of it. Look no further. Anderson Alterations Academy can teach you to become a master bridal seamstress and know how to make a career out of it!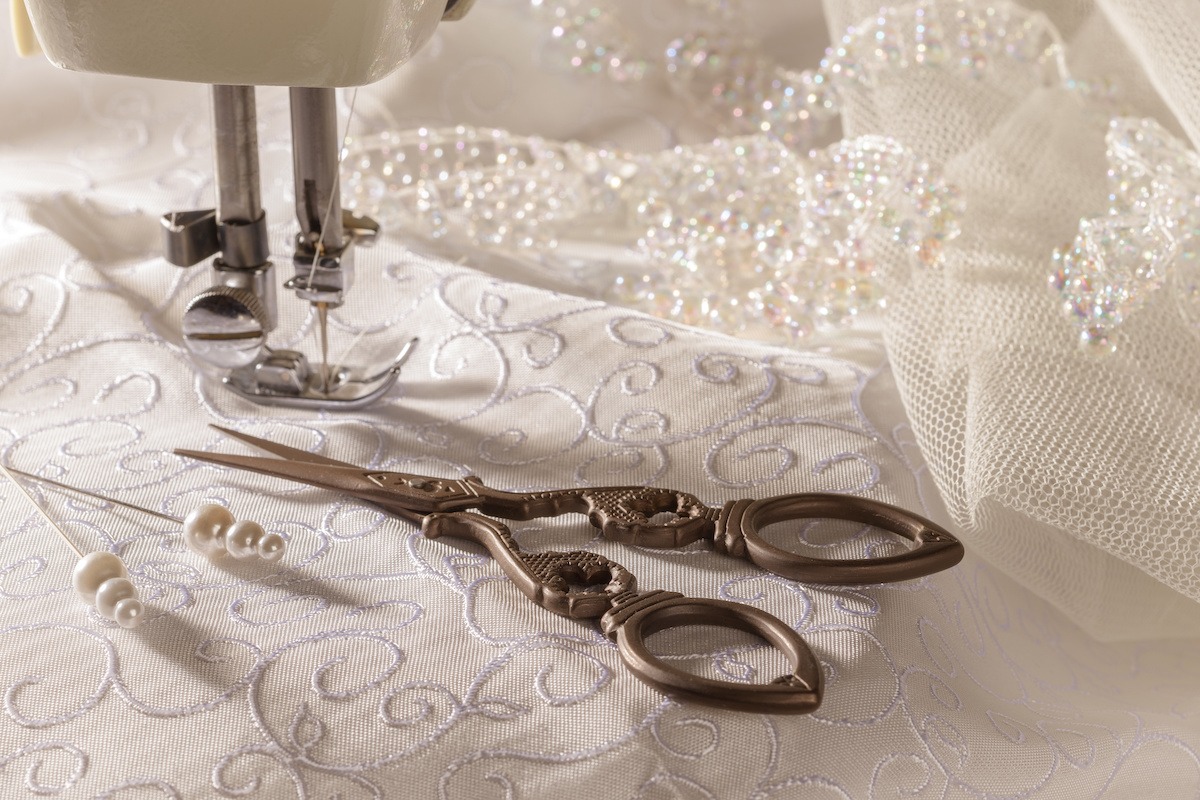 Bridal alterations as a career  makes it able for you to make your own schedule, clients and work from home. You will be able to work on multiple projects at your own pace and meet a variety of brides. It's a special moment to achieve the perfect fit and to see the bride see herself in her wedding dress, knowing that she can relax on her special day. 
Statistically this is very seasonal work. Majority of weddings are between May and September, so summers will be very busy and not so much over the winter. Also, bridal shops usually always have a seamstress either in house or on call. This helps the shop close a sale when the bride knows what alterations will be needed and if they are able to afford them before the dress is bought. This also ensures that the seamstress will most likely be getting a client. 
What skills and supplies do you need for bridal alterations?
Brides want someone with experience, qualifications and a great price! But they also want their dress to fit them like a glove so they have no worries on their special day. It really all stems down to TRUST. Trust will bring the brides. It also reflects on the bridal shop. 
Anderson Academy offers courses where you can learn from Dee Dee Anderson, a very reputable wedding dress seamstress, on how to become a master at bridal alterations. Dee Dee has the reputation for being honest and doing an impeccable job. And because of that brides from all over the U.S. will and have travelled to her for her work. 
Many bridal shops are even aware of her work and knowing that you have taken Anderson Academy Courses will give that bridal shop the confidence to hire you or that bride to trust you with her special dress.
To take Anderson Academy courses you will need to have advanced sewing skills. You must be comfortable and familiar with sewing women's dresses with princess-seamed bodices, linings, boning and both lapped and invisible zippers. You will also need some dresses to practice on which you can get from your own closet, friends, goodwill or a bridal shop that is willing to work with you.  It is also important to have a very dependable sewing machine,  a serger that can do a rolled hem, Ironing board and an iron, good scissors and clean area to sew. 
How can Anderson Academy help you achieve your career goals?
Anderson Academy can mentor you into creating your own business and clients or knowing the protocols that bridal shops look for in their seamstress. Even the basics like measuring, bagging a dress, zipping up a dress and even appropriate dress code for sales people. 
This is a "go at your own pace" school. It should take, on average, about 3 months to finish each level. But Dee Dee is much more concerned about the knowledge, skill, and confidence of her students in doing their work than she is concerned about speed. Getting the most out of these classes is what is important. Speed comes with practice, repetition, and experience.
Students have 1 year to finish a level of classwork. This can be extended for special circumstances if the academy is contacted. Otherwise, the student account will be closed. After graduating, students have a lifetime account with the academy where they can use the website for review, networking with other graduates, and see new videos posted and further training events only available to academy students and graduates.
If you think this may be a good fit for you. Contact Dee Dee at The Anderson Academy, and learn more about how she can help you create your dream job!