As a professional business owner, I am in charge of managing my own work time. Time management can make or break a sole proprietorship business. Today, I want to focus on batching. First, let's define batching:
to arrange (things) in sets or groups.
Ok. How does this apply to your everyday work in bridal alterations?
Let me describe the things I do in batches and the things I don't do in batches.
Fittings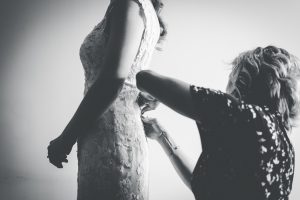 My number one batch work is Fittings. I do all my fittings on Wednesday. Why? I work from home and so I want my home to look great inside and out for my customers. It's impossible to have that type of tidy happening every day when I am busy sewing. Also, I enjoy having my home to myself and hubby the rest of the week instead of constant intrusions on our home. I set up my signage and supplies in the bathroom where I do the fittings and take it all down after my last fitting of the day. Then, the master bathroom belongs to me again for the rest of the week. 
Dress Color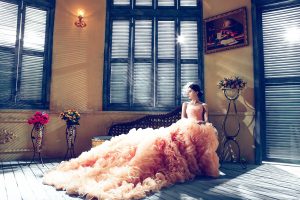 Another thing I do in batches is dress color. I line my work up in a certain order for the week. Whites, then ivories. Then all the colored dresses. When I finish the last colored dress,  I vacuum all the colored threads up and clean my machines to get all the colored lint and threads out of my studio. Then I'm ready for next week.  This lets me do all the whites without changing threads on my machines. Then, ivories, nudes, and colors. It helps you keep the momentum going when you can quickly move on to the next white dress with your thread ready to go. 
Along with the thread color, I keep in mind the rolled hem work.  On my serger, I have to change the foot and throat plate for the rolled hem. So if I have other dresses that need a rolled hem, and if they are in the same color of thread, I will do all the rolled hem serging at once for matching colored dresses.
Office Work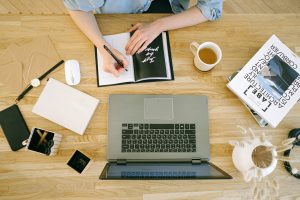 I batch my office work too. Monday morning my calendar is set up with bookkeeping and CEO time.This is when I make my agenda for my tuesday team meeting for the academy and check my numbers. Every morning I check my emails and then I am done for the day.
I know some people like to batch their handwork. I like to see a dress done and back in the bag, so I don't go that far with my batching. I also haven't figured out scheduling appointments yet. I am looking into different scheduling apps for this and need to get that in place. I also consider facebook part of my work because of my academy. This is done randomly throughout the day and I really need to get control of my brain and do it in the morning with my emails and then put it aside.
There are countless ways that batching can be applied to bridal alterations.  Think through your work load and see if some of it can be streamlined with batching.
Have a great week!
Dee Dee Anderson